Invisalign Info
Dr. Shabana Zahir is Certified Invisalign Provider
What is Invisalign?
Invisalign is the invisible way to straighten your teeth without braces.
Invisalign uses a series of clear removable aligners (pictured to the side) to straighten your teeth without metal wires or brackets.
Invisalign is made with 3D computer imaging technology and has been proven effective.
How does Invisalign work?
Invisalign works through the use of a series of removable plastic aligning trays. These trays are changed out every 2 weeks for a period of 9 to 15 months(depends on the extent of crowding or spacing of teeth), gradually straightening your teeth over time. The average number of aligners worn during treatment is between 18 and 30, but both will vary from case to case. During your first Invisalign appointment, your dentist will:
Evaluate your smile condition, and create a 3D rendition of your teeth.
Your dentist will then have your customized aligners created in a lab, specifically designed to fit your individual needs.
Show you exactly how the Invisalign process works, and how your smile will gradually align over time.
How Do I Get Started with Invisalign work?
Getting started with treatment couldn't be easier. In fact, you can be on your way to straighter teeth and a beautiful smile within weeks of visiting our office. Please call our office today for a complimentary consultation at 757-962-7000.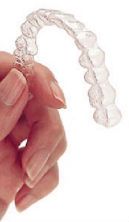 CALL FOR AN APPOINTMENT NOW!